Blog
Delft International Conference on Sociohydrology | NEWAVE & CNDS Youth Plenary Session
First Delft International Conference on Sociohydrology | 6-8 September 2021
Join the NEWAVE & CNDS co-organized Youth Plenary Session for early-career researchers and young water professionals | September 8, 2021 from 13:30-15:00 CEST
Take part in person or online in the First International Conference on Sociohydrology in Delft, the Netherlands. A unique opportunity to learn and actively engage with social scientists and water professionals around pressing societal water-related challenges and SDGs.
About the conference
This hybrid conference aims to reflect and discuss intricate water-related issues that are taking place in several regions around the globe. Given the complexity of these challenges and the required ammunition for path-breaking research, a wide spectrum of experts and practitioners from the hydrology, governance, sociology, behavioural sciences, water economics, water technology, engineering and sociohydrology (SH) communities, along with a cross-section of practicing water managers and stakeholders, will be invited to participate in the conference.
Agenda & overarching themes
This conference will discuss and debate selected classes of questions, challenges, and phenomena that participating community finds most urgent to unravel and understand in the face of the grand sustainability challenges. The convention will focus on understanding the dynamics underlying such phenomena through discussions of relevant real-world case studies from around the world, both current and historical. It will, for instance, reveal how sociohydrology syncretizes with other disciplines and frameworks such as Socio-Ecological System frameworks.
The Delft Sociohydrololy Conference will be set around the water management and water governance puzzles, exploring them along three main pillars: theories and concepts (quantitative or qualitative), empirical studies (including surveys and citizen science as methods for understanding feedbacks), and the validation of theories/concepts based on diverse case studies. It will be be organized under five overarching themes:
Theme 1: Innovating a new knowledge base for water justice studies: hydrosocial, sociohydrology and beyond
Theme 2: Scale issues in human-water systems
Theme 3: Water resources & human behavior: analysis and modeling of coupled water-human systems feedback and coevolution
Theme 4: Innovative sensing, observing, measuring, and analysing human-water data
Theme 5: Solutions to water crises (related to actual interventions)
NEWAVE & CNDS jointly organized Youth Plenary Session (YPS)
Emerging threats of future water crises and hydro-social challenges create an urgent need to enhance early-career professionals' capacities and expertise to better address socio-environmental and technical vulnerabilities, focusing on different aspects of water governance and hydrological risks while fostering inter-and trans-disciplinary approaches.
The Youth Plenary Session (to be held at the 1st Sociohydrology Conference in Delft, on September 8, 2021, from 13:30-15:00 CEST) is envisioned as a forum created for early-career professionals in order to synergistically discuss and reflect on the way forward to incorporate new theoretical approaches into training programmes that are needed to go beyond intellectual barriers in the socio-hydrology field. Discussions will revolve around the key question of how to train the next generation of scientists breaking disciplinary boundaries while ensuring that they will be able to find their place in the workforce of tomorrow, assessing learning needs and priorities in different contexts and geographies. The NEWAVE Network and the Centre on Natural Hazards and Disaster Science (CNDS) share the event's epistemological ambition of bridging the social and hydrological components and seek to practically translate this into innovative training opportunities.
Keynote Speakers
The YPS includes a panel discussion in which renowned water professionals, practitioners, and academics of the field share their experiences and main challenges while working with interdisciplinarity.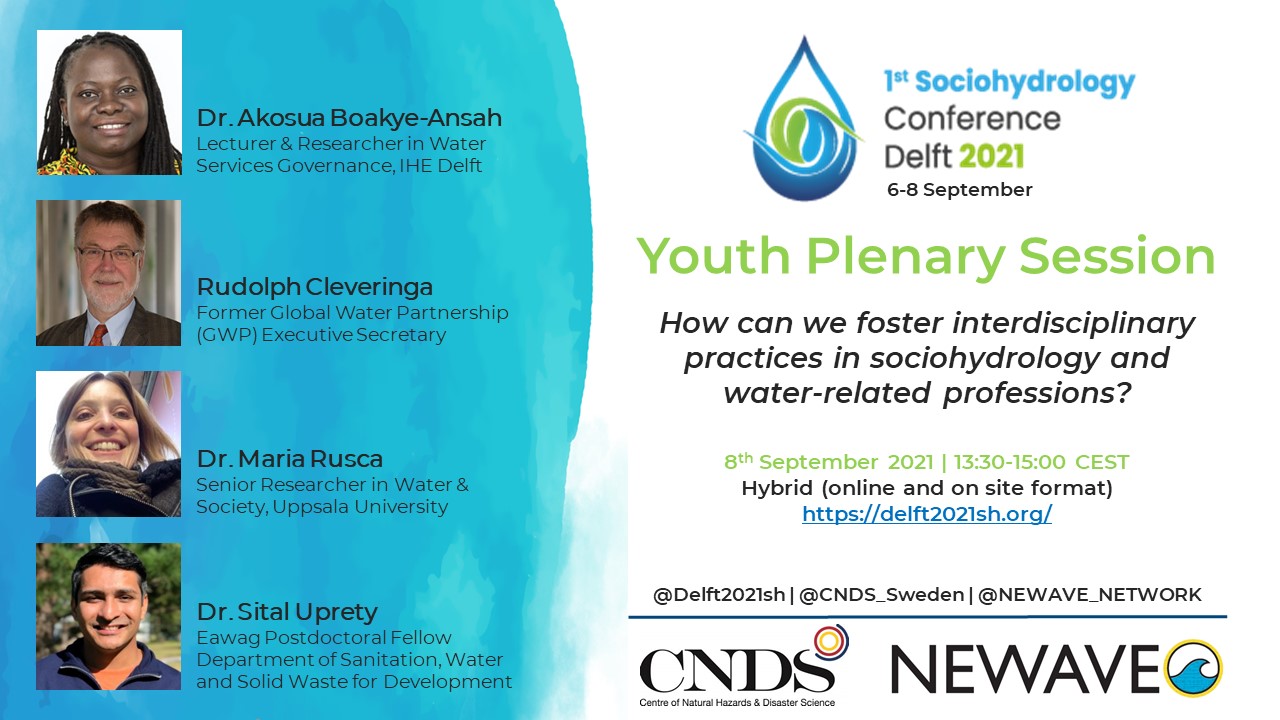 Session's objectives
Create a community of interdisciplinary early-stage researchers and professionals working in the field of socio-hydrology and water-related professions within the conference.
Discuss about interdisciplinary challenges faced by senior and early-career researchers/practitioners.
Propose a way forward to the next generation of interdisciplinary scientists and professionals: pathways to break disciplinary boundaries whilst at the same time, ensure a place in the workforce of tomorrow.
Programme
| | | |
| --- | --- | --- |
| Time | Activity | Participants |
| 13:30-13:35 | Welcome & Introduction | NEWAVE & CNDS |
| 13:35-13:45 | Ice Breaker: Myths and struggles of interdisciplinarity in water-related research and professions | YPS Organizing Team |
| 13:45-14:30 | Panel Discussion: Why and how to practice Interdisciplinarity in water-related research and professions | Mr.Rudolph Cleveringa - Dr.Maria Rusca - Dr,Akosua Boakye-Ansah - Dr.Sital Uprety |
| 14:30-14:50 | Break-out rooms: How can we foster interdisciplinary practices in socio-hydrology and water-related professions? | YPS Organizing Team |
| 14:50- 15:00 | Wrap-up: Let's get organized | YPS Organizing Team |
NEWAVE Scholarships
The NEWAVE Network supports early-stage Researchers (ESRs), PhD students and postdocs involved in the study of the interplay between physical, technical, and social processes around water-related issues. NEWAVE is committed to foster the participation and engagement of young generations. We are proud to announce that we granted more than 53 scholarships for early-career professionals and PhD candidates to cover the conference registration costs.