Blog
[External call for recruitment] 4 Phd positions Riverhood Project: Living rivers and new water justice movements
NEWAVE's supervisors (ESR 8) Prof. Rutgerd Boelens and Prof. Jeroen Vos, members of the Water Resources Management group at Wageningen University & Research, invite applications for the PhD programme RIVERHOOD. There are 4 positions available for students who want to learn more about rivers, environmental justice and social movements in a transdisciplinary, cross-cultural and collaborative way. These Phd positions are not part of the 15 NEWAVE ITN Marie Curie ESR/PhD positions, but selected candidates will have the possibility to join several activities of the network.
The call for application is open until June 8, 2021. More information about the vacancy and application requirements can be found here.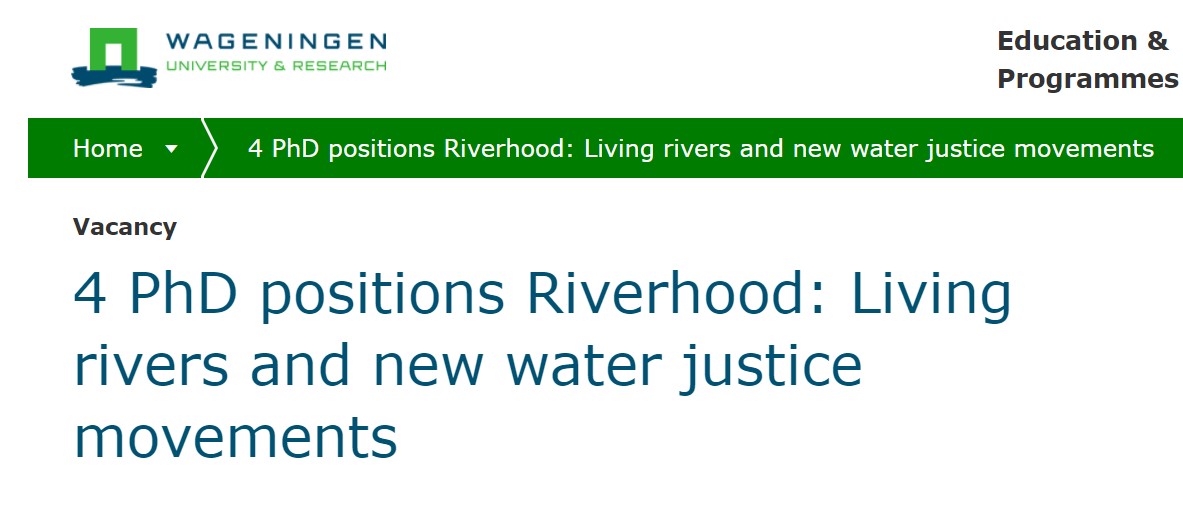 About the RIVERHOOD Project
Are you interested in understanding how different actors know, value and strive to shape river systems in diverging ways? Do you want to learn specifically about approaches for enlivening rivers that are promoted by grassroots water justice movements? Then this could be the perfect PhD opportunity for you!

To further explore how new water justice movements (NWJMs) struggle for enlivening rivers, the Water Resources Management (WRM) group invites applications for four 4-year long PhD projects. As a candidate, you will study the drivers and inspirations for these emergent approaches and movements, and find out how they translate and promote their ideas transnationally.

RIVERHOOD is a 5-years project funded by the European Research Council (ERC). It will study, conceptualize and support evolving NWJMs in Ecuador, Colombia, Spain and the Netherlands, developing a new analytical and methodological framework. The central research question is: How do the new water justice movements shape and dynamize riverhood enlivening strategies, institutions and practices, and how can they potentiate radically new scientific and policy approaches for sustainable and equitable water governance?
PhD positions
PhD 1: Investigates the Ranchería (or a similar) river in Colombia and the Biesbosch area (NL), both ecological reserves affected by pollution and large infrastructure. Indigenous communities develop river-caring practices and river's rights have been legally recognized. Also in the Biesbosch, court cases are filed to protect rivers while promoting innovative regeneration techniques.
PhD 2: Studies Ecuador's Andean Quimsacocha river complex and the Guadalhorce or a similar river in Andalusia, Spain. They are affected by industrial intervention and large water diversion. For both, local-national coalitions develop innovative enlivening practices. Quimsacocha's mobilization Nature's Rights is highly interesting for their Andalusian peers.
PhD 3: Investigates Ecuador's Amazon Piatúa River where an environmentalist, indigenous, ombudsman partnership halts oil- and hydropower-development, mobilizing Rights of Nature. They experiment with alternative riverine practices. This connects to a Dutch 'rewilded' river to be selected, where multi-actor coalitions enliven the riverscape.
PhD 4: Studies how community-environmentalist networks mobilize Rights of Rivers (Samaná River, Colombia) and New Water Culture notions (Serpis River, Spain) and halt mega-dams, introducing ecological flows, building-with-nature hydraulics and community riverhoods.
All PhD projects are comparative studies, incorporating social, material and symbolic hydro-territorial relations. Ethnographic methods are combined with quantitative methods such as water measurements, technographic analysis and participatory mapping. PhD researchers will co-organize Environmental Justice Labs as interactive research and action environments to foster knowledge co-production and collaboration between researchers, local actors and translocal networks.
The call for application is open until June 8, 2021. More information about the vacancy and application requirements can be found here.