Blog
Highlights from the first International Conference on Sociohydrology

With less than a decade before the ambitious 2030 Sustainable Development Goals (SDGs) agenda, it becomes critical to mobilize social scientists, hydrologists, and professionals around the SDGs in order to accelerate the efforts towards systemic solutions for pressing societal water challenges worldwide.
It is in light of this urgent need that the International Conference on Sociohydrology took place this year for its very first time. To gauge the relevance of this event, we invited the participants to share their experience of the Conference. The high amount of positive responses shows us the crucial importance of bringing the social and the hydrological dimensions together.
A hybrid, international and innovative conference on Sociohydrology
With great enthusiasm we gathered in Delft, the Netherlands for the First International Conference on Sociohydrology that was hosted from 6-8 September 2021 in a hybrid format, allowing the engagement of water scientists and practitioners from all over the world.
The aim of the conference was to bring together an international and interdisciplinary network of water-related professionals in order to critically and collectively discuss, exchange, and identify alternative solutions to the current water crises. The hybrid format "provided me with the opportunity to look at water problems from different perspectives. I gain insight into the human interaction with the natural hydro-process." said Xiulu Sun, PhD candidate at Wageningen University and Research, The Netherlands. Additionally, "The virtual conference held on 'aqueous' platform Whova allowed a free flow of thoughts. I was able to have meaningful conversations directly with the water-researchers, whom I have always thought of having a dialogue with. Not just I enhanced my knowledge capital, I was also able to build up my social capital through networking, which I believe is equally important." stated Shivika Aggrawal, Sociology Guest Lecturer at Shobhit University, India.
This event offered a unique opportunity to strengthen the emerging community of sociohydrology, broadening the field of natural and social sciences while integrating a plurality of perspectives beyond disciplinary boundaries. "I had a really enriching experience in all regards. The conference allowed me to look at some exemplary research that my peers and seniors have undertaken in this domain. It provided me with the much-needed exposure to improve my own understanding of complex yet relevant concepts and methodologies in sociohydrology. I certainly feel encouraged to belong to this research community, which is exploring the frontiers of interdisciplinary research in this exciting domain of sociohydrology. Thank you for the opportunity to participate." stated Sayanangshu Modak, Junior Fellow, Observer Research Foundation, Kolkata, India.
The conference was set around water management and water governance theories, concepts, methodologies, and empirical case studies triggering a momentum for change and debate around new water paradigms. "I enjoyed presenting my preliminary work and ideas around situating knowledge, particularly those concerning groundwater governance. The interaction and learning from other speakers (and PhD students) was useful for various aspects of my research like methodology, literature, etc" said Dhaval Joshi, PhD student, University of Edinburgh, United Kingdom.
Thematic presentations, keynotes, cross-disciplinary sessions as well as a Youth Programme were part of the conference agenda. "This conference was very insightful and the core lesson learned by me is that interdisciplinary approach is very important in water-related research, engagement of experts from different disciplines provides lots of benefits for research outcomes since it helps to get a more holistic picture and explore different angles: technical, social, economic, etc" stated Olha Halytsia, PhD student at Technische Universität München, Germany. "It was a really good opportunity to network with so many professionals who work with water and related topics. A good balance of topics in real-life situations. I'm grateful to have presented my research in the 2021 Delft Conference." stressed, Navya V Nair, PhD. Student at the University of Waterloo, United Kingdom.
The NEWAVE Network and the Centre of Natural Hazards and Disaster Science (CNDS) are overwhelmed by the positive response and gratified to announce that more than 70 scholarships were granted to early-career researchers and professionals allowing them to present their research and cover the conference registration costs. "I, Shivika, from India would like to thank NEWAVE to provide me with a scholarship which enabled my participation at this unique learning festival, which brought together water professionals from different streams on one platform. The participation, along with 300+ delegates, made me realize that my isolated struggle to nurture 'humanistic' engineering has instead a global support." stated Shivika Aggrawal. Likewise, Azmal Hossan, PhD Student at Colorado State University, USA emphasized "As an interdisciplinary early career researcher who focuses on water, presenting in such a prestigious conference and getting feedback from world-renowned water scholars is definitely a milestone in my career." In the same line, Mojtaba Shafiei, an early-career researcher at the East Water and Environmental Research Institute, Iran commented "The Delft conference was great and I succeed to connect with many sociohydrologists. In fact, the most prominent value for me was to get familiar with NWO funds. Finally, I really appreciate the NEWAVE support for this perfect event and all of the organizers."
The Youth Plenary Session: fostering interdisciplinary in water-related research and professions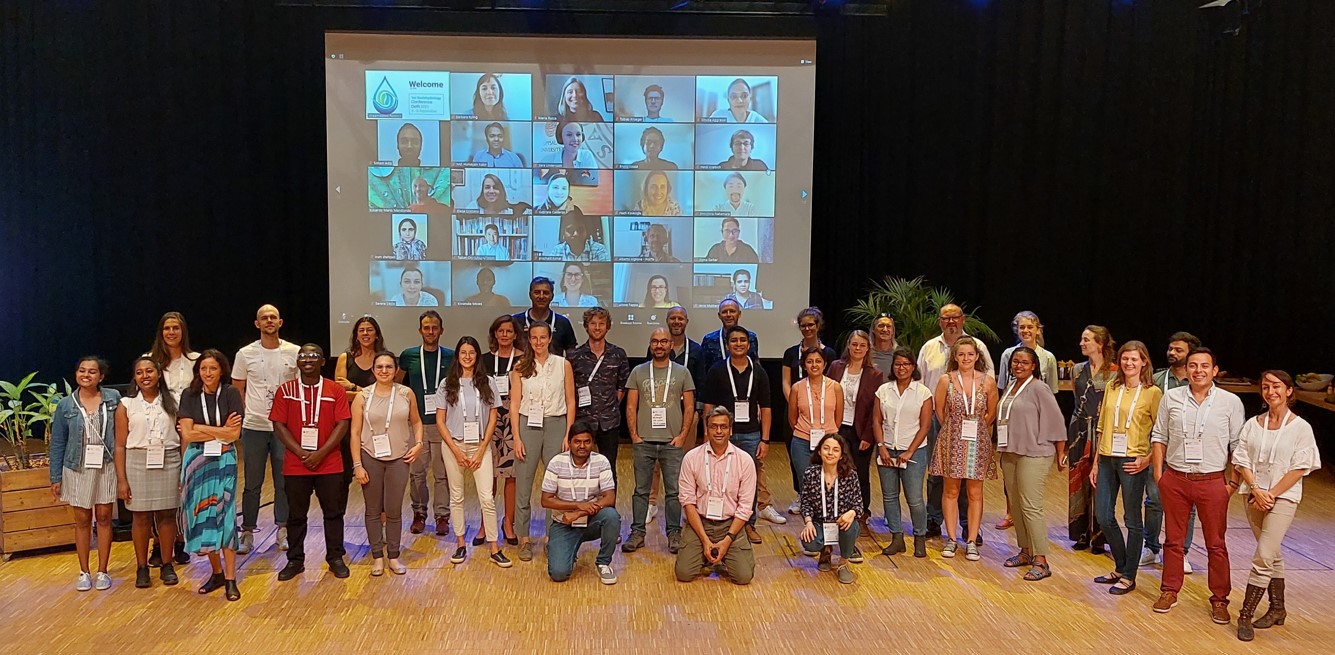 A successful Youth Plenary Session was jointly organized by NEWAVE and CNDS. We were able to bring together four international panellists representing both practitioners' and researchers' perspectives and over 100 online and onsite participants.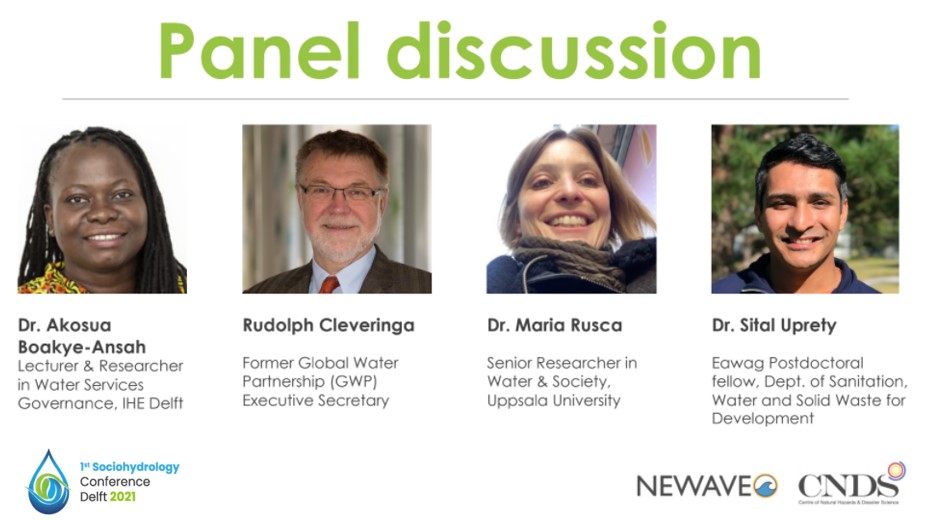 The session was envisioned to provide guidance and discuss the question: 'How can we foster interdisciplinarity in water-related research and professions?' Our top-level panel shared valuable insights, experiences, and tips to overcome interdisciplinary challenges when practicing sociohydrology. Some of the keynotes during the discussion related to the promotion of a collaborative and systematic approach as well as the development of a common language and clear methodologies while doing research. "While attending the Youth Plenary Session, I realized that the youth around the world is forging 'New' science, which is - humanistic and objective, societal and natural, holistic and evidence-backed-, a blend of Natural and Social Sciences. I felt that the struggles and academic journey of researchers envisioning to realize this, around the globe, resonates with mine. This spurred the much-needed confidence in my own thoughts and work. Participation of 'youthful' scholars from different age-groups further diversified and enriched the discussions […]. Science, technology, engineering and math (STEM) education is undoubtedly necessary, but there is no STEM without Arts, Humanities and Social Sciences, which are necessary to propel the engine of sustainable development." said Shivika Aggrawal.
To make the session more engaging and interactive, we divided into breakout rooms to debate and collect practical ideas on how to foster interdisciplinarity. Interesting remarks were shared and brought forward by participants. Some of the ideas that were proposed include: the modification of the natural sciences curriculum in order to enhance social awareness; integrateing and connecting natural and social sciences departments at universities and organizations; ensuring interdisciplinary supervision by integrating different perspectives; improving communication between scientists and stakeholders, among others. Summing up, Irum Shezadi, Research Scholar at Quaid-I-Azam University Islamabad, Pakistan concluded "It was a great experience for me. I interacted with many people from various research fields. I also attended sessions in which different researchers presented their work in the domain of sociohydrology covering different aspects. In the final session different researchers, including both experts and students, shared their experiences and suggestions about the challenges that are being faced when conducting interdisciplinary research and getting research opportunities for integrated studies".
NEWAVE and CNDS are committed to move forward the conversations that were triggered during the plenary session, engaging the emerging community of sociohydrology. Stay tuned for the upcoming developments!
Want to know more?
For updates on NEWAVE's activities, events and opportunities subscribe to our newsletter.
For updates on CNDS activities, events and opportunities check out their website.