Blog
NEWAVE First Training Event: e-Lecture Series on Water Governance Theoretical Perspectives
From Nov 17 to Dec 17, 2020, NEWAVE hosted its first online training activity: e-Lecture Series on Water Governance Theoretical Perspectives.
This online training module had the objective to engage the NEWAVE Early-Stage Researchers (ESRs) and the wider public in interactive and thought-provoking discussions on different water governance theoretical perspectives. The activity saw the participation of a truly international and transdisciplinary audience. All e-lectures were free and open to the public upon registration, with the possibility to request a certificate of participation.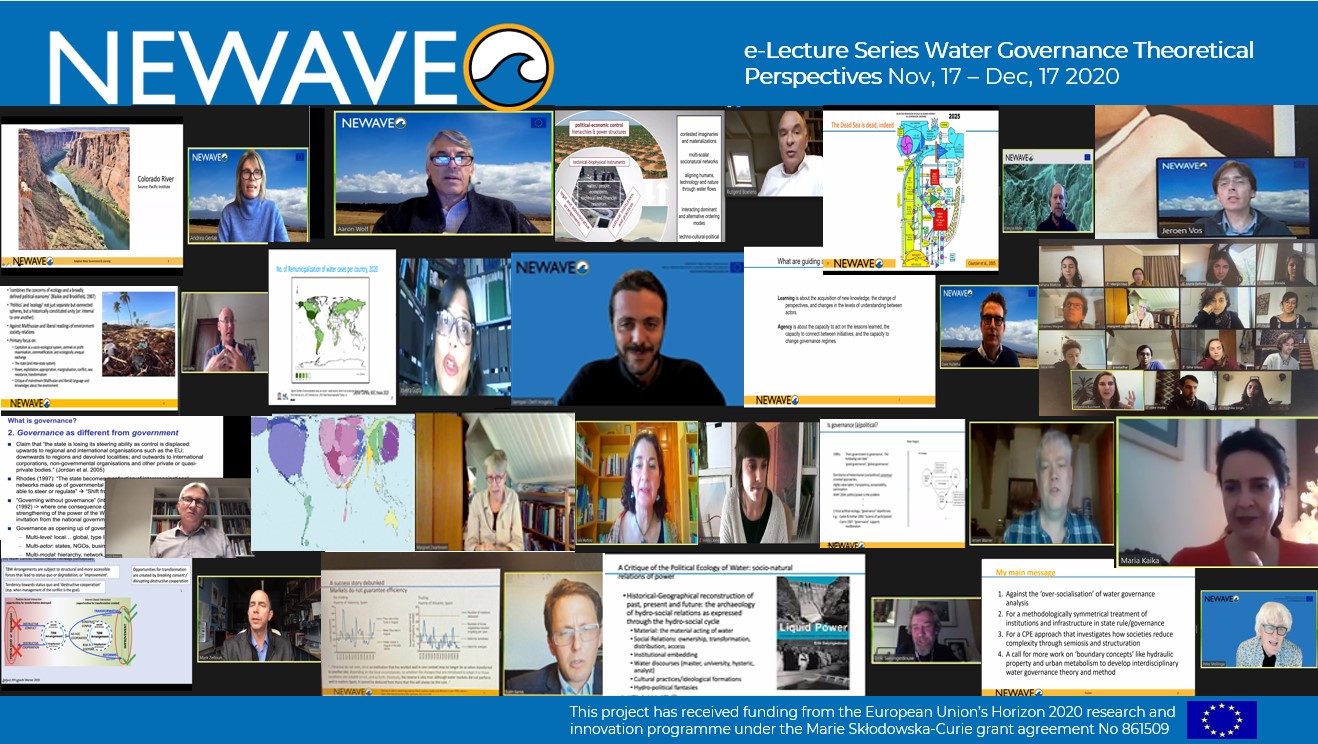 NEWAVE's first online training module has proved a great outreach success, receiving more than 1,600 registrations from more than 112 countries. High participation rates were visible throughout the entire month with an average of over 330 participants per session.
NEWAVE e-Lecture Series Participation Map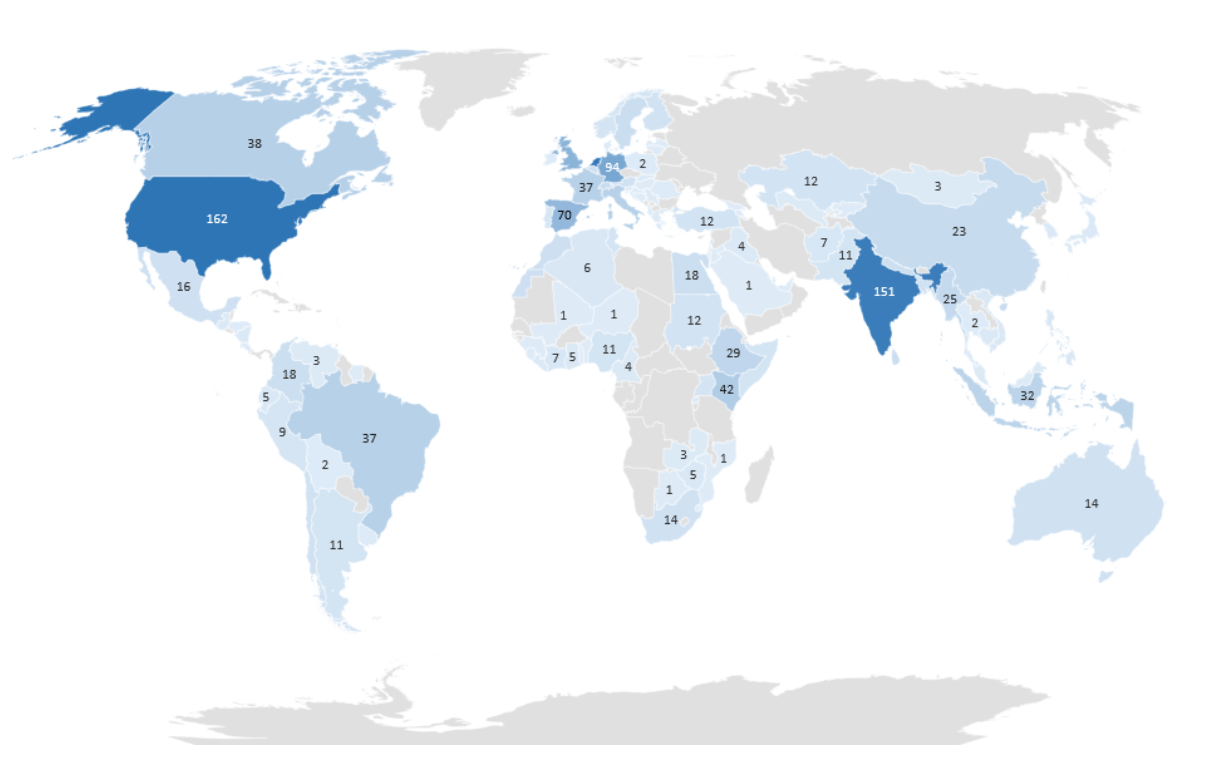 NEWAVE e-Lecture Series Attendance Curve (*Sessions 6 and 8 had only one lecture)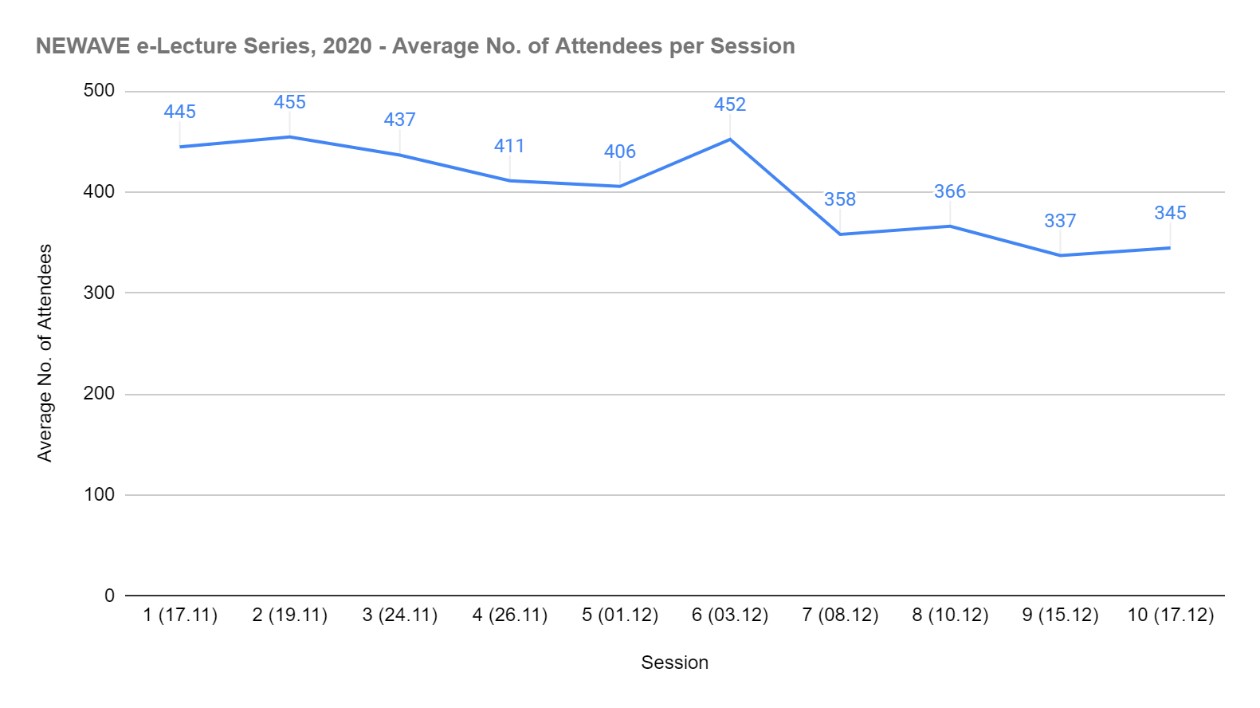 Despite the challenging times related to the Covid-19 pandemic, the event experienced an impressive engagement and support of a global community of water enthusiasts who raised over 545 questions throughout the entire series. Interacting with such an audience was not only an exciting and fulfilling experience but also revealed the opportunities and powerful aspects that digital tools can bring to education. While teaching & learning via a camera might have its disadvantages, it does allow people from literally everywhere to connect and learn from one another, and particularly to keep educational programmes ongoing when it would be physically impossible to do otherwise.
"Starting a Ph.D. during a pandemic is unsettling and rather challenging, in the sense of not being able to physically and mentally connect to the location of the Ph.D. program, your supervisors, and your peers. Thankfully, the shift of the NEWAVE lecture series to an online format as a first intensive and grounding experience provided a sense of connection with colleagues and offered direct links and discussions with reputed scholars who are leading in the field on water and environmental governance. This experience while mentally stimulating also offered a process of bringing us closer as a group, albeit all through Zoom calls.", reflected Dona Geagea, NEWAVE ESR 10 and Ph.D. fellow at Vrije Universiteit Amsterdam. Feeling similarly, Alejandra Burchard, NEWAVE ESR 9 and P.hD. fellow at ARCADIS Netherlands echoed: "I really enjoyed the first Newave e-Lecture Series on Water Governance Theoretical Perspectives! As I start my Ph.D. on water governance, coming from a more technical and management background, these lectures really expanded my view on water governance stimulating critical thinking through new lenses. Even though the lectures were online, the reading lists, the presentations, the moderation, and moments for discussion allowed us participants to really engage with the content. It was a great and impactful e-learning experience for me."
NEWAVE team highly values the inputs, comments, and the time participants took to answer the feedback survey, and is thankful to have received such impressive positive responses. We are pleased to hear that opening the lectures to the public helped many students, researchers, and water practitioners in their endeavours. "The NEWAVE e-Lecture Series offered me an unexpected anchor as I went through the water governance literature for my master's thesis. As the field is notably complex and still fledgling, it was especially helpful to get an overview of the differing perspectives used to make sense of water governance in an insight-rich and engaging way. I often found myself following up afterwards on the literature or ideas presented" stated Willow Sommer, M.Sc. Student at the University of Freiburg. "Tuning in every Tuesday and Thursday at 6 am from Arizona was something, but also totally worth it! Can't wait for the recordings to be released and future events from this network!" added on the Twitter channel Adam, Ph.D. Student.
NEWAVE will consider the comments and suggestions given by the participants for further improvement. We are tremendously grateful for the time and dedication of the lecturers, ESRs, host and partner organisations, and all the participants that joined and supported the network during this 1-month online intensive course.
We look forward to seeing you again in the upcoming activities. Stay tuned and follow us on Facebook, Twitter, Linkedin, Instagram, and Youtube!
About the e-Lecture Series:
The e-Lecture Series on Water Governance Theoretical Perspectives consisted of 18 lectures that were organized on a bi-weekly basis, every Tuesday and Thursday afternoon CET via Zoom. Each day, two renowned experts in the water field presented their topic, followed by a brief and open discussion aimed at stimulating critical and transdisciplinary thinking. The detailed programme of the e-Lecture Series and the list of recommended readings are available here.
About the certificate of participation:
The certificates will be released soon to all the participants who attended at least 80% of the course (14 lectures). If you comply with this requirement but did not received the certificate from NEWAVE by 15 February, please contact us via the online form.
About the recordings of the lectures:
We are currently processing and organising the material of the course, which will be published online on our website by spring. Once the content is uploaded, we will send an update via newsletter and on social media. Please Subscribe to NEWAVE's Newsletter for updates!