Blog
Traveling Beyond Words: Visual Language in Participatory Research
The Shared Dialogues team is happy to invite you to explore our website (in English and in Spanish), in which you will find details on the research process and download the arts pieces that we have co-created along the way. Please visit and share it!
Building upon a participatory action research process carried out by Violeta Cabello Villarejo and Paula Andrea Zuluaga-Guerra together with local actors of the Mar Menor lagoon and the Campo de Cartagena (South-East Spain) between January 2021 and February 2023, Shared Dialogues was conceived as an interdisciplinary project that explores participatory and artistic tools to collectively reflect on experiences of ecological loss and environmental conflict, specifically around the eutrophication of the lagoon.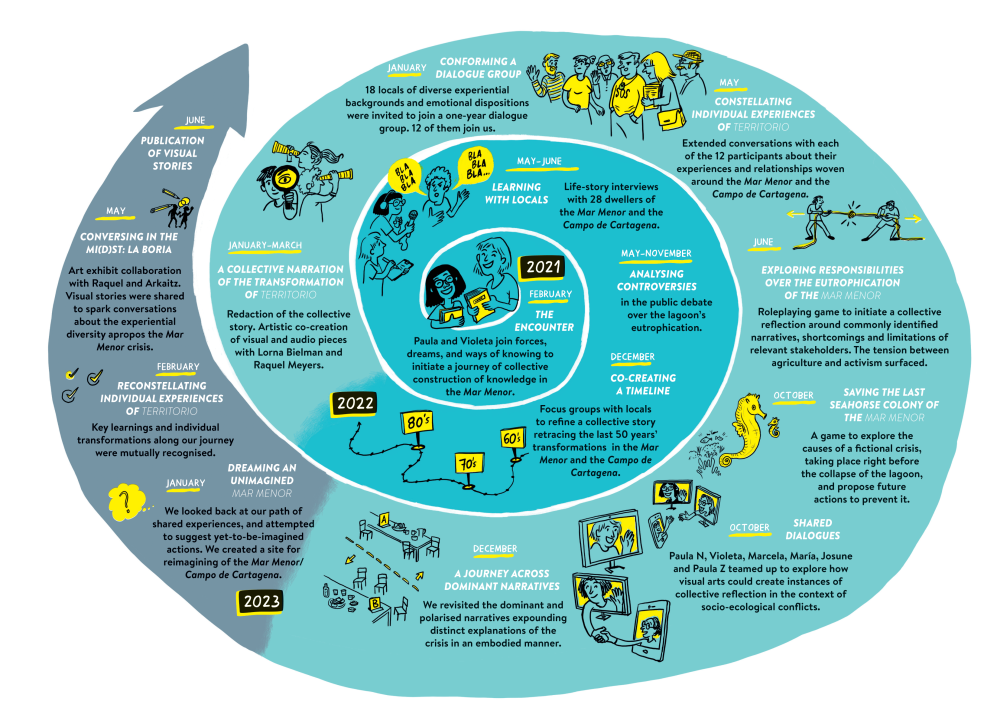 Illustration by Josune Urrutia
Between January and July 2023 our interdisciplinary team was devoted to the creation and sharing of visual stories portraying some of the voices of those people who are not usually heard in the public debate about the Mar Menor. Inspired by Paula's and Violeta's research, Josune Urruatia's experience as a visual artist, Marcela Brugnach knowledge on water research, Maria Macilla's work on relationality in socio-ecological research and Paula Novo's research on arts in the contexts of environmental conflicts, we constellated a series of 20 visual stories under the umbrella of the 'ecotone'. Evocating its original definition as zones of transition or overlap between different ecosystems, we used (and propose) the notion of 'ecotone' as a metaphor for the intersections among communities and stories that inhabit the territory.
In the frame of Shared Dialogues we created a series of spaces for exploring the potential of visual language for sparkling reflexivity and dialogue among diverse social actors in the Mar Menor and the Campo de Cartagena:
'Conversing in the mi(d)st: La Boria' arts exhibition in Murcia
In collaboration with Rakel Meyers and Arkaitz Saiz we hosted an arts exhibition at the Puertas de Castilla Cultural Centre between the 27th of April and 12th of May 2023. "Boria and other stories" is an eclectic exhibition that combines photography and visual arts to show the Mar Menor and the Campo de CartCentro Cultural Puertas de Castillaagena from the perspective of locals, tourists, migrant workers, and researchers, and that aimed to show that the eutrophication of the Mar Menor cannot be explained from a unique perspective.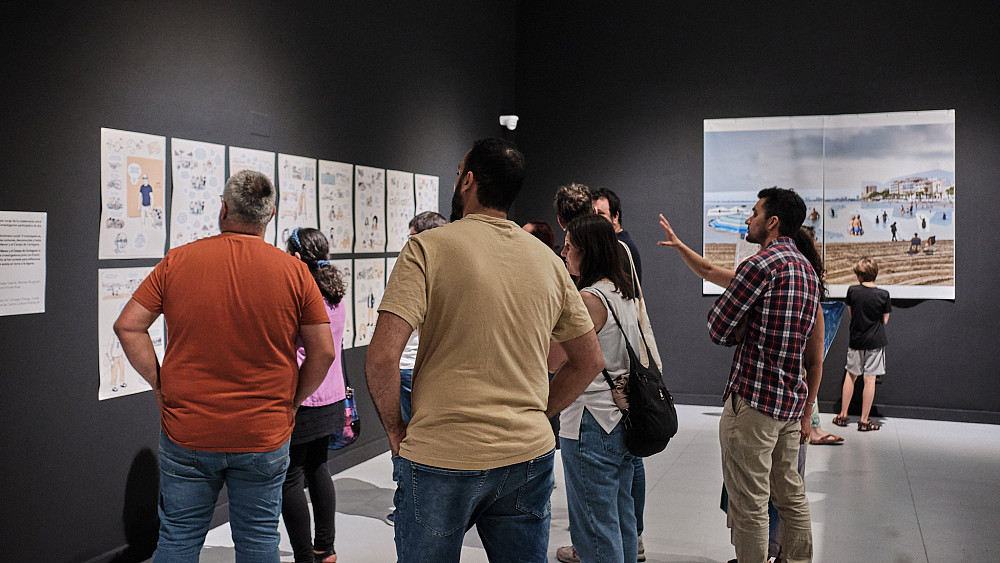 Photo by ARKAMAYERS
In the frame of the exhibition, the Shared Dialogues team also created a space for collective reflection with local stakeholders and the general public, carried out four guided visits with the support of AMARME for children from local schools, and conducted a creative workshop on visual narratives with a group of 12 local actors.
'Beyond Words: Visual Language in Participatory Research' Seminar
On the 10th of July 2023 we invited four women researchers coming from different disciplines and working on different parts of the world to a space of conversation about collective art-science research processes, with an emphasis on the use of visual languages as a means for co-creation.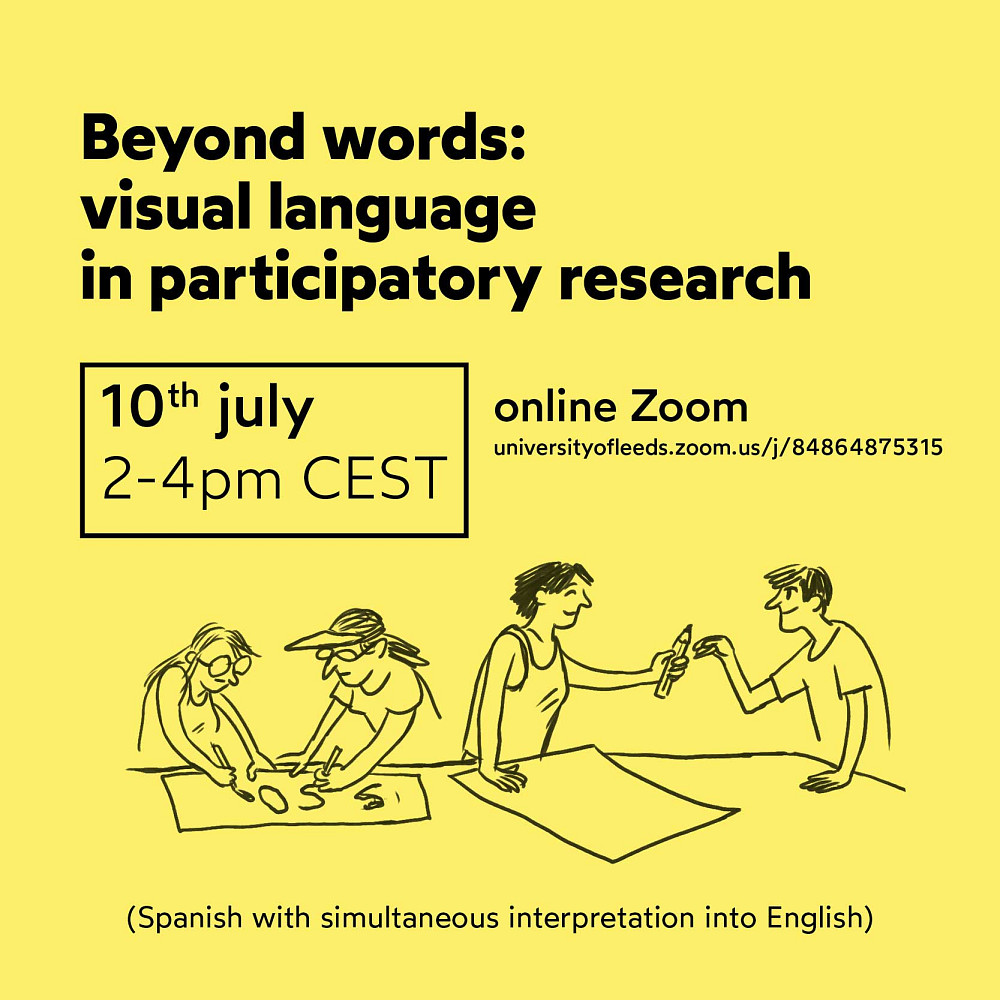 Illustration by Josune Urrutia
During this virtual seminar we explored questions around the power of visual arts to go beyond words and spark new understandings, feelings and reflections on difficult and/or painful, but relevant subjects. We learned about the difficulties of translating written language/research into visual language with the experiences of Federica Ravera when collaborating with Martina Manyà for the co-creation of 'Dones de la muntanya', a graphic novel, portrait of the rural world and Pyrenean shepherds with a gender perspective. Carla Boserman shared with us her reflections on how she sees visual arts as a way of doing research and strengthening collective processes in Spain.
We also discussed the risks and challenges of portraying diverse (and sometimes vulnerable) voices through visual languages and the ways to consider the potential impacts of our work on those who we are representing. Through her work with riverine communities in Colombia, Maria Ordoñez-Cruz shared how her artistic practice has enabled collective reflections around stories of violence and opened windows for imagining new/different futures. Finally, we heard from Andrea Cagua perspectives on visual arts in the context of research on collective memory, autobiography and migration and her projects: 'Memoria & Comics' and Enviñetadas.
This work was supported by Research England through Participatory Research funding; from the Spanish Ministry of Science and Innovation through the Juan de la Cierva (MCIN/AEI/10.13039/501100011033) and Ramón y Cajal (RYC2021-031626-I) programme; the María de Maeztu 2023-2027 (CEX2021-001201-M) excellence accreditation programme; the Basque Regional Government through the BERC 2022-2025 programme; and the European Commission through the Horizon 2020 research and innovation programme, and the Marie Skłodowska-Curie 'NEWAVE – Next Water Governance' Training and Innovation Network under funding agreement No. 861509.