Events
Delft International Conference on Sociohydrology | 6-8 September 2021
September 6-8, 2021,
8.00 - 19.00
First Sociohydrology Conference in Delft: Engaging social scientists and water professionals to address the SDGs.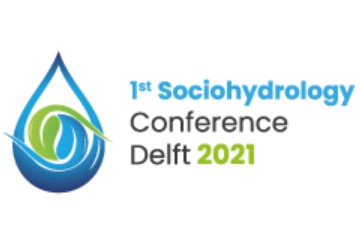 A Hybrid Conference
Participate in either virtual or in-person format to understand and discuss severe water crises that many parts of the world are facing. The ambitious 2030 Sustainable Development Agenda of the United Nations makes it clear that freshwater is a cross-cutting theme across many of the 17 Sustainable Development Goals (SDGs). In other words, these societal grand challenges are essentially water-related challenges of too much, too little or too polluted water and adapting to our changing environment. Agenda 2030 is entering its last decade but is lagging behind in meeting its targets. With just 10 years to go, it is important and urgent to mobilize the community of scientists and practitioners to explore the causes for the lack of progress and offer alternative solutions to the water crises.
Given the complexity of the challenges and the required ammunition for path-breaking research, a wide spectrum of experts and practitioners from the hydrology, governance, sociology, behavioural sciences, water economics, water technology, engineering and sociohydrology (SH) communities, along with a cross-section of practicing water managers and stakeholders, will be invited to participate in the conference.
Scientific Agenda
The conference will discuss and debate selected classes of questions, challenges and phenomena that participating community finds most urgent to unravel and understand in the face of the grand sustainability challenges. The conference will focus on understanding the dynamics underlying such phenomena through discussions of relevant real-world case studies from around the world, both current and historical. It will reveal how sociohydrology syncretizes with other disciplines and frameworks such as Socio-Ecological System frameworks. For example, the denial of anthropogenic causes of the worsening water crises in spite of overwhelming scientific evidence in its favour is one such global phenomenon that has yet to be studied in depth. Farmers around the world are growing high-value crops in spite of the long-term risks involved (and biases and lock-ins that are hard to change), while irrigation efficiency in water-scarce places is leading to dwindling groundwater tables are other examples of well-observed patterns that deserve our urgent attention.
The conference will be set around the water management and water governance puzzles, exploring them along three main pillars: theories and concepts (quantitative or qualitative), empirical studies including surveys and citizen science as methods for understanding feedbacks, and the validation of theories/concepts based on diverse case studies. Water (in)justice is one example of common concern to diverse disciplines that deals with uneven distribution of hydrological risk, uneven distribution of water contamination, differentiated access to water, and environmental justice.
Scholarships available
NEWAVE Network supports Early-Stage Researchers (ESRs), PhD students and postdocs, involved in the study of the interplay between physical, technical and social processes.
Scholarships are currently offered to cover the registration costs of the 2021 Sociohydrology Conference which will take place in Delft, the Netherlands, between the 6th- 8th of September.
More information about the conference can be found here.
To apply for the scholarship, please fill in this google form with your information and abstract before July 10, 2021.
If you have any questions, please do not hesitate to send us an email at info@nextwatergovernance.net
*Please note that you will need to submit your abstract via the conference website if you wish to participate in the conference programme. We will evaluate the abstract only with the purpose to check your eligibility and grant the scholarship. With submitting an abstract here, you will NOT automatically submit it to the Conference, nor directly have your abstract accepted by the Conference organisers. You can see the abstract template and more instructions on the conference website.
NEWAVE treats your data with utmost care and in respect to its privacy policy, in conformity with the EU GDPR.