Events
NEWAVE Distinguished Lecture: Prof. James Scott 'The Flood Pulse' & Roundtable on Myanmar's hydropolitics
April 21, 2022,
15.00 - 17.30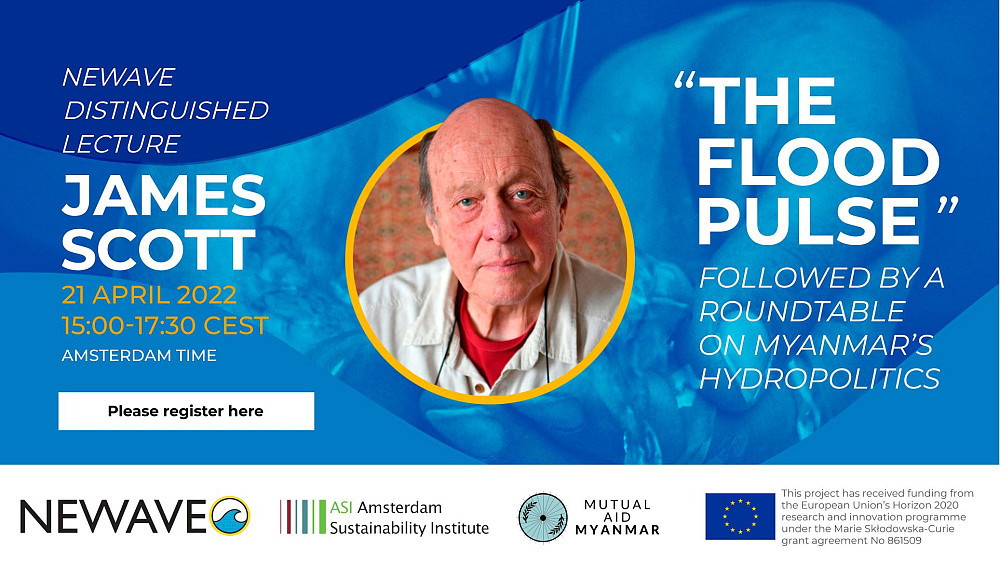 ---
We are honoured to welcome Professor James Scott, for NEWAVE's distinguished lecture 'The Flood Pulse', on 21 April 2022, 15:00 to 17:30 CEST.
Pan Ei Phyoe, Oxford Water Network Coordinator, University of Oxford will moderate the Q&A session.
Following the lecture, there will be a roundtable on Myanmar's Hydropolitics, chaired by Stew Motta, NEWAVE Early Stage Researcher (ESR1), with invited panelists:
Nang Won Lee, Mae Nam Khone Institute, Myanmar
"Co-creating Knowledge to Enhance Women's Leadership for Inclusive River Governance and Livelihood Resilience in Inlay Lake, Southern Shan State, Myanmar "
Saw John Bright, Karen Environmental and Social Action Network (KESAN), Myanmar
"The Salween Peace Park in Myanmar's shifting political context"
Kyungmee Kim, Researcher, Climate Change and Risk Program, Stockholm International Peace Research Institute (SIPRI), Sweden
"Local politics of water: community resistance against dams"
Laur Kiik, Tokyo College, University of Tokyo
"Hydropolitics Meets Ethnopolitics: The Myitsone Dam between Kachins, Bamars, and Chinese"
The event is co-organised by NEWAVE, the Amsterdam Sustainability Institute's Water Justice and Security Cluster, and Mutual Aid Myanmar.
Register to the lecture here. Registration is free and open to all.
If you are interested to support Mutual Aid Myanmar's movement, please see here.