Events
ECP Satellite Event: World Water Day 2022
March 22, 2022,
10.00 - 12.00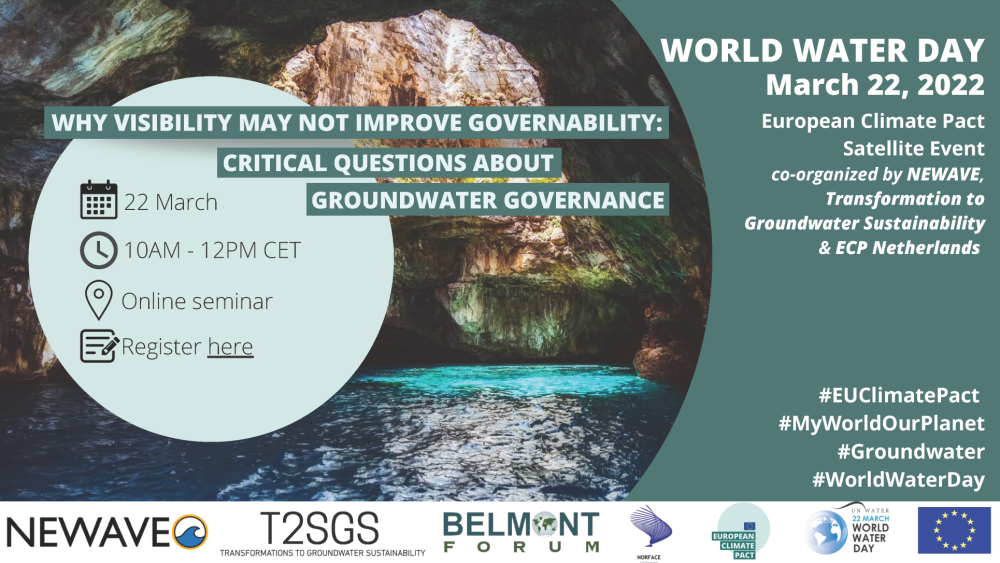 On the occasion of the #WorldWaterDay, next 22 March 2022, NEWAVE will host a European Climate Pact Satellite Event, consisting of an online seminar titled 'Why visibility may not improve governability: critical questions about groundwater governance' followed by an onsite river clean up initiative in Den Haag, Netherlands.
The event is organised by NEWAVE in collaboration with Transformation to Groundwater Sustainability (T2GS), European Climate Pact (ECP) Netherlands.
This science-policy online seminar will consist of panel presentations followed by a roundtable discussion. Our speakers, Professor Margreet Zwarteveen (IHE Delft, Netherlands), Professor François Molle (IRD, France) and Dr. Himanshu Kulkarni (ACWADAM, India) will give presentations on this year's UN World Water Day theme 'Groundwater: making the invisible visible', airing new critical views on groundwater governance. Our invited discussants, among them Dr. Hind Ftouhi, Dr. Melle Nikkels, Mr. Willem Grootoonk, and Ms Bettina Doeser, will be engaged in the roundtable.
After the online seminar, NEWAVE and ECP NL ambassadors will take part in the River Clean up initiative, organised in The Netherlands by Stichting Aquarius.
Would you like to join us? Get in contact with us or register via the initiative's website here.