Events
NEWAVE & CNDS Youth Plenary Session | Delft International Conference on Sociohydrology
September 8, 2021,
13.30 - 15.00
Participate in the Youth Plenary Session for early-career researchers and young water professionals, jointly organized by NEWAVE - Next Water Governance and the Centre of Natural Hazards and Disaster Science (CNDS)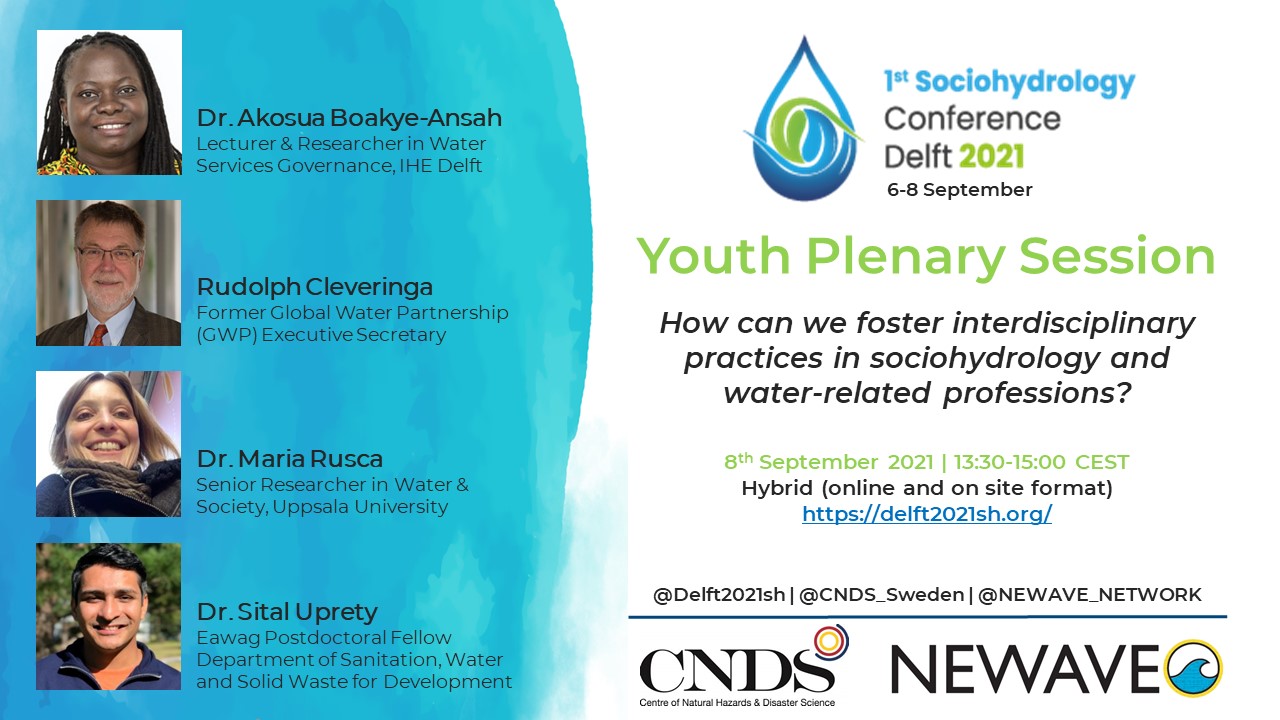 The Youth Plenary Session (to be held at the 1st Sociohydrology Conference in Delft, on September 8, 2021, from 13:30-15:00 CEST) is envisioned as a forum created for early-career professionals in order to synergistically discuss and reflect on the way forward to incorporate new theoretical approaches into training programmes that are needed to go beyond intellectual barriers in the socio-hydrology field. Discussions will revolve around the key question of how to train the next generation of scientists breaking disciplinary boundaries while ensuring that they will be able to find their place in the workforce of tomorrow, assessing learning needs and priorities in different contexts and geographies.
Keynote Speakers
The plenary session includes a panel discussion in which renowned water professionals, practitioners, and academics of the field share their experiences and main challenges while working with interdisciplinarity.
Dr. Akosua Boakye-Ansah, Lecturer/Researcher in Water Services Governance, IHE Delft
Mr. Rudolph Cleveringa, Former Global Water Partnership (GWP) Executive Secretary
Dr. Maria Rusca, Senior Researcher in Water & Society at the Department of Earth Sciences, Uppsala University
Dr. Sital Uprety, Eawag Postdoctoral Fellow. Department of Sanitation, Water and Solid Waste for Development
NEWAVE & CNDS session's goals
Create a community of interdisciplinary early-stage researchers and professionals working in the field of socio-hydrology and water-related professions within the conference.
Discuss about interdisciplinary challenges faced by senior and early-career researchers/practitioners.
Propose a way forward to the next generation of interdisciplinary scientists and professionals: pathways to break disciplinary boundaries whilst at the same time, ensure a place in the workforce of tomorrow.
Programme
| | | |
| --- | --- | --- |
| Time | Activity | Participants |
| 13:30-13:35 | Welcome & Introduction | NEWAVE & CNDS |
| 13:35-13:45 | Ice Breaker: Myths and struggles of interdisciplinarity in water-related research and professions | YPS Organizing Team |
| 13:45-14:30 | Panel Discussion: Why and how to practice Interdisciplinarity in water-related research and professions | Mr.Rudolph Cleveringa - Dr.Maria Rusca - Dr,Akosua Boakye-Ansah - Dr.Sital Uprety |
| 14:30-14:50 | Break-out rooms: How can we foster interdisciplinary practices in socio-hydrology and water-related professions? | YPS Organizing Team |
| 14:50- 15:00 | Wrap-up: Let's get organized | YPS Organizing Team |
Don't miss this fantastic opportunity and register now! We look forward to meeting you at our joint Youth Plenary Session!