Events
NEWAVE session @ World Water Week at Home: Innovative Training Network for water governance paradigm shifts
August 26, 2020,
11.00 - 11.45
Join our session at this year's SIWI World Water Week At Home!
NEWAVE is proud to participate in the online event hosted by SIWI: #WWWeekAtHome, edition created to help bridge the gap between the 2019 and 2021 World Water Weeks, and continue the pressing conversation on water challenges and climate change.
NEWAVE: Innovative Training Network for water governance paradigm shifts
This session presents NEWAVE's research ambitions, its training programme and network, and it is primarily targeted to researchers in the field of water governance, water practitioners and policy makers. The central focus of this session is on the training and educational frontiers of water governance as a science-policy field.
Participants are invited to join a conversation on what the main water governance training and educational priorities in our field should be and how these combine with NEWAVE's objectives. An interactive discussion led by NEWAVE researchers will stimulate critical, innovative, and trans-disciplinary thinking over water governance approaches and training, and pave the way for future collaborations.
A digital poll will be used to collect answers to crucial questions (e.g. what are the skills that future water leaders should have; which innovative training methods can provide these skills; etc). The received answers will be discussed by the session organisers and the participants.
To participate:
Click here to register to the session on Zoom on 26 Aug at 11:00 CEST
Note: the session will be recorded. By participating, you consent to be recorded and that we may use any video or shot of the session for future dissemination purposes.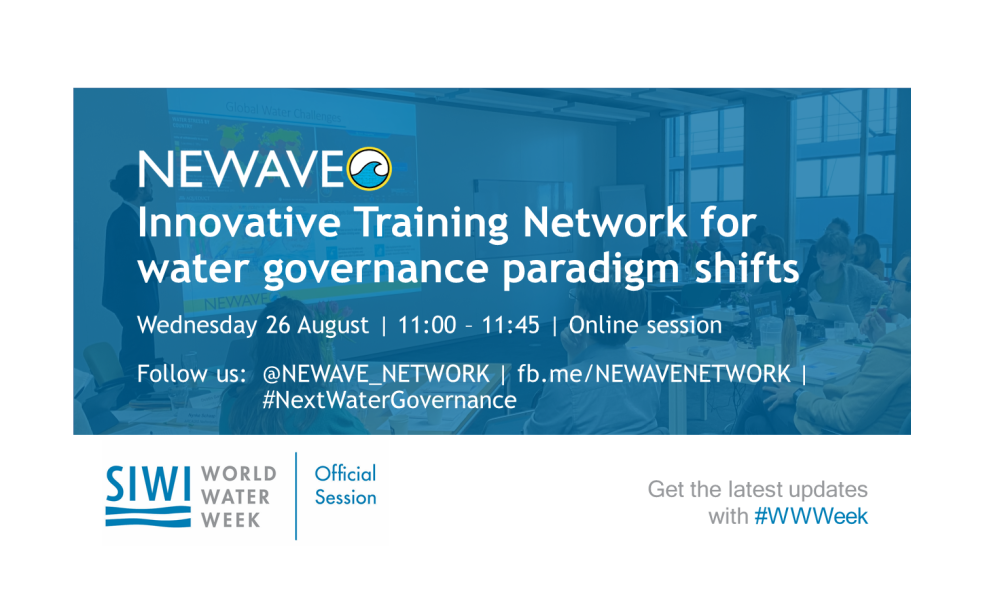 Session organisers:
Ms Caterina Marinetti, NEWAVE Scientific Project Manager
Prof. Jampel Dell'Angelo, NEWAVE Coordinator
Mr. Erick Velazquez, NEWAVE Junior Researcher, PhD Candidate VU Amsterdam
Ms Barbara Kyling Sanchez, BKS Sustainability Consultant
Target audiences:
Water Governance Early Stage Researchers
Other interested researchers (water governance; policy; related topics)
Young professionals and aspiring leaders in the water sector
Educators; trainers; capacity developers in the water sector
Policy makers and practitioners
Anyone interested in Innovative Training methods and the focus of the project
Programme
Time
Activity
Chair(s)
11:00 - 11:05
Welcome and Introduction
Caterina Marinetti; Jampel Dell'Angelo
11:05 - 11:15
NEWAVE Theoretical Framework
Jampel Dell'Angelo

11:15 - 11:20

Training Programme overview
Erick Velazquez
11:20 - 11:35
Interactive Discussion

Moderators:
Caterina Marinetti; Jampel Dell'Angelo

11:35 - 11:40
Wrap up and closing
Caterina Marinetti; Jampel Dell'Angelo