Events
[webinar repost] Sustainable Development in Rural South Asia: Challenges, Trade-offs, and Prospects
This event is organised by the MIT South Asian Alumni Association. To register, visit the event webpage
Among the speakers, our NEWAVE Early Stage Researcher, Radhika Singh will present her recently published book "Along the Betwa, a Riverwalk through the Drought-Prone Region of Bundelkhand, India", co-authored with Shail Joshi.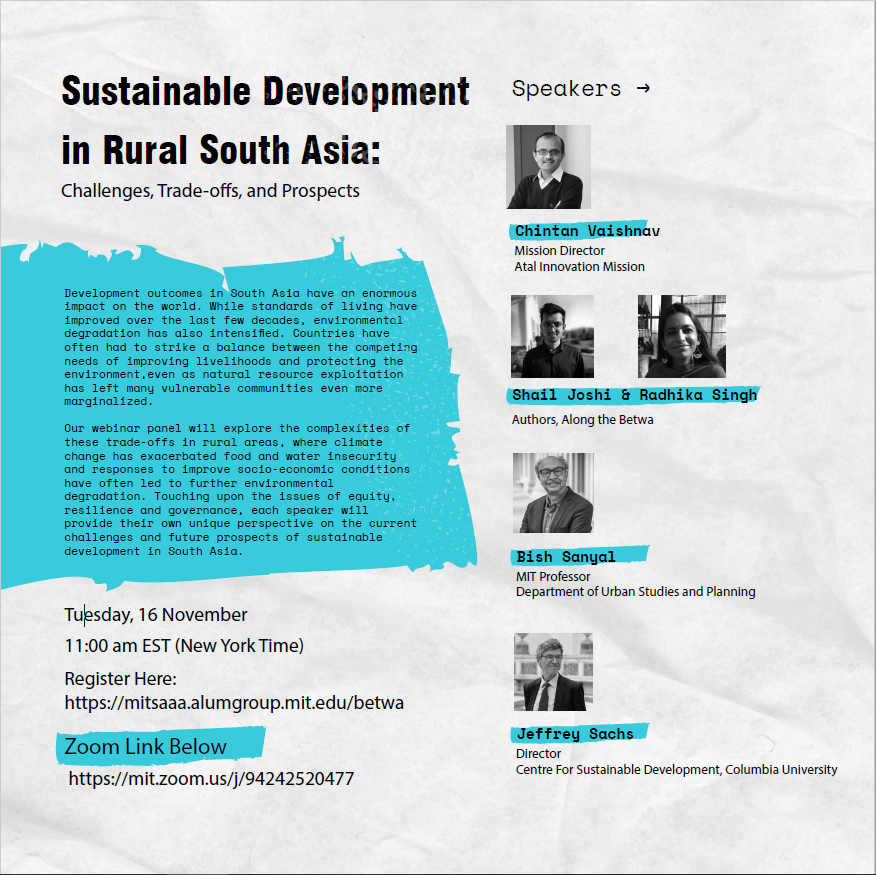 Event Description
Development outcomes in South Asia have an enormous impact on the world. The eight countries in South Asia hold a quarter of the world's population, and its rich diversity of peoples and geographies has given rise to a range of political, economic and social systems. While standards of living have improved over the last few decades, environmental degradation has also intensified. Countries have often had to strike a balance between the competing needs of improving livelihoods and protecting the environment, even as natural resource exploitation has left many vulnerable communities even more marginalized.

This webinar panel will explore the complexities of these tradeoffs in rural areas, where climate change has exacerbated food and water insecurity and responses to improve socio-economic conditions have often led to further environmental degradation. Touching upon the issues of equity, resilience and governance, each speaker will provide their own unique perspective on the current challenges and future prospects of sustainable development in South Asia. The event is being organized by the MIT South Asia Alumni Association in collaboration with MIT Energy, Environment and Sustainability Network, D-lab, Harvard GSD South Asia Association, and MIT's Water Club.
Webinar speakers:
Chintan Vaishnav
SM'06, PhD'10, MIT. Director of the Atal Innovation Mission of India
Shail Joshi & Radhika Singh
MCP'20, MIT. Alumni of Department of Urban Studies and Planning. Authors, Along the Betwa, a Riverwalk through the Drought-Prone Region of Bundelkhand, India.
Bish Sanyal
Ford International Professor of Urban Development and Planning. Director of the Special Program in Urban and Regional Studies / Humphrey Fellows Program, MIT.
Jeffery Sachs
Director, Center for Sustainable Development, Columbia University